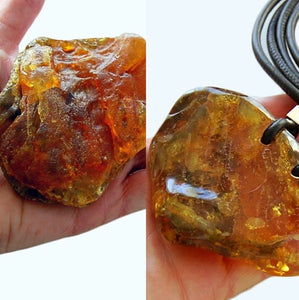 Amber- fake or real ? (Part 2) January 19, 2021
 We can often can find pressed natural Amber on the market. 
It is also called "heated" and is created when small remnants of Amber are fused together using high heat source or pressure. Though this type of stone is sill amber, it will not perform for the health reasons or pricewise  the same way original, natural and not heated Amber does. Because the original pieces of Amber have been compressed, the singular power of each piece is compromised. The price is lower and it also has a "manmade" type of shape. 
The years of experience and intuition help me to select Amber, but to be on the safe side I always prefer to work with the raw unpolished stones and to go through all long process from polishing, buffing and drilling the finished look, which satisfies me.  
In my jewelry I put Amber next to other materials, often with the rich textures. Because of that I often leave the stone semi-polished, keeping it's natural shape and look. In some my models the highly polished Amber would look too smooth and out of the place.
---