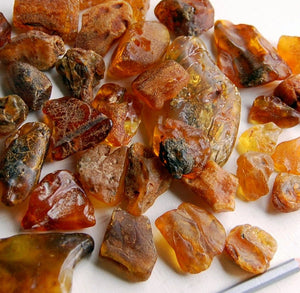 My Favorite Material for Jewelry. Amber fakes and real January 10, 2021
 After  years of practicing and experimenting with different materials for contemporary jewelry I discovered Amber for as the most fav and rewarding material to work with. What Amber is actually? Amber, fossil tree resin that has achieved its look and shape through loss of volatile matter and chemical change after being for millions years in the ground or see water. Amber could be found in many regions, but the largest and most significant deposits concentrated along the shores of the Baltic Sea 40 mln up to 60 mln years old.
 The biggest problem with amber for collectors, is the great number of fakes in the marketplace. One of the most often substitutes for amber is copal, which is  also a tree resin, but it is much younger, just less than million years old, which means it will get sticky when worked with or rubbed.
There is also other fake Amber around, which is simply Plastic. To distinguish Amber from synthetic fakes, pierce it with a hot needle; Amber will release pleasant pine tree odor and light smoke while substitutes will  melt with unpleasant smell of plastics.
Continue reading in the next post
---